Steptember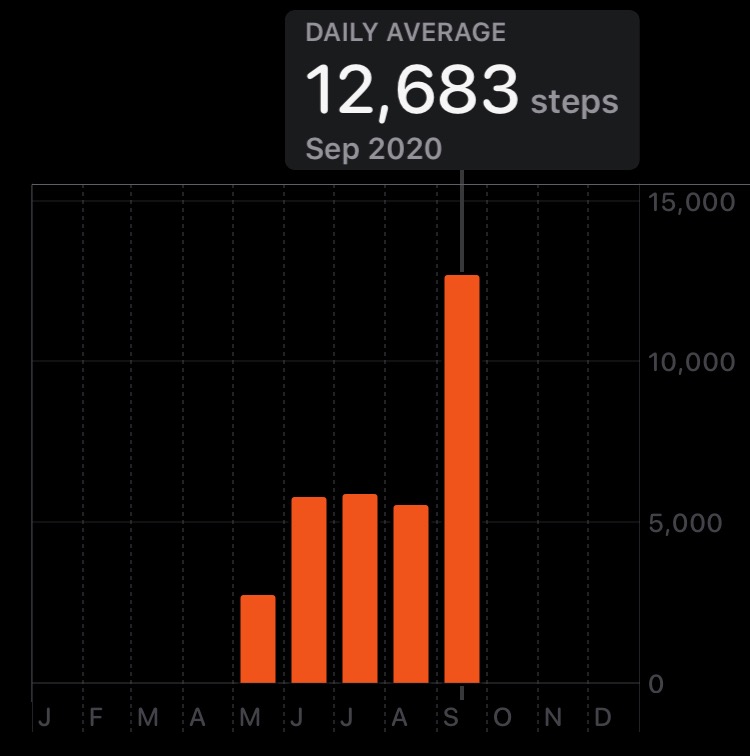 Just a quick update on finishing the Steptember social challenge/cause successfully. The challenge was to score 10,000 steps per day in September. You form teams of four, keep one-another accountable, compete with others and along the way, raise some money for charity.
To me, there were three big benefits of taking part in it:
Health. Undeniably, walking more will keep you in better shape than sitting in front of the computer all day. Taking part in such a challenge forces you to get out and move.
Charity. It always makes you feel good when you do something for others. It's one of the best win-win things people can do. First, you help someone and then - you feel better because of that.
Social and more offline time. I spent some extra time with friends and had some extra walks in nature, away from the screen.
To summarize: I did 10,000+ steps every day in September with an average of 12,683 steps/day! That's more than double my usual daily average of 5,800. I'm sure this has positively contributed to my health and wellbeing. Also, our mighty team of four - "Lorikeets" (kristina.spaghettina, stoyanova.kristina, xpucto89 and I) was invited to join Canva's organization, and we were #1 🎉 in total team steps - 1,674,064 (in a company of close to 1000 employees)!
Stan
Oct 01, 2020
// Life
---